Newracom and Collaborative Industry Pioneers to Showcase a Range of Innovative Wi-Fi HaLow IoT Solutions at AIoT Taiwan Expo
Newracom, AHPC, ALFA Network, ASKEY, AzureWave, and others come together to promote the adoption of Wi-Fi HaLow at the Expo.
Wi-Fi HaLow consortium declares that Wi-Fi HaLow is in full swing in IoT markets through various showcases.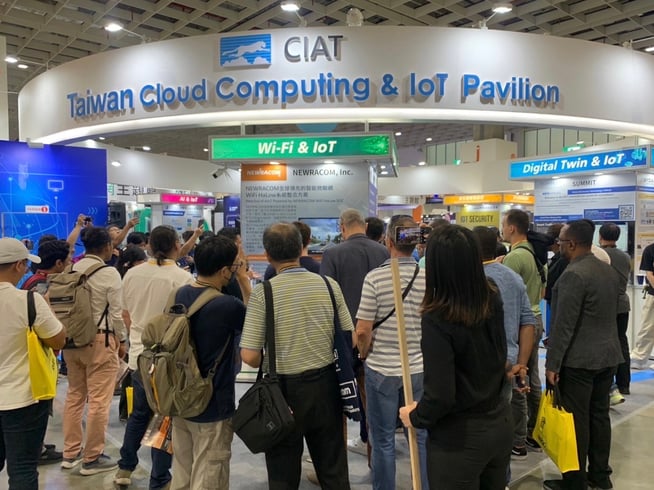 Irvine, CA, October 24th, 2023 - Newracom is set to participate in AIoT Taiwan Expo hosted by CIoud Computing and IoT Association in Taiwan (CIAT), taking place at the Taipei Nangang Exhibition Center from October 25 to 27, 2023. This will mark the inaugural appearance of Wi-Fi HaLow at the CIAT IoT Pavilion. Newracom is collaborating with industry leaders such as AHPC, ASKEY, ALFA Network, AzureWave, NTT, and Furuno to advance the prominence of Wi-Fi HaLow technology as a standard for IoT connectivity. Their collective objective is to propel the widespread adoption of Wi-Fi HaLow for various IoT devices and to highlight the early commercialization successes of this technology.
During AIoT Expo, the consortium of Wi-Fi HaLow solution providers will showcase a range of innovations. Askey will announce the industry's first FCC and TELEC certified Wi-Fi HaLow IP camera, a small form factor NRC7394 Wi-Fi HaLow module, and a Tri-band WiFi+11ah AP router, available for the Japan and US market initially. Other key highlights include the industry's smallest Wi-Fi HaLow System on Module (SoM) from AzureWave, a comprehensive Japan-certified sensor and imaging solution demonstration by AHPC, and Newracom's next-generation Wi-Fi HaLow SoC named NRC7394.
Tadao Kobayashi, Chairman of the AHPC (802.11AH Promotional Council) in Japan, comments, "Since the inception of AHPC, Newracom has been actively engaged in field experiments related to 802.11ah conducted by AHPC. They have consistently enhanced the hardware and software of 802.11ah chips to align with Japanese regulations. Newracom has played a pivotal role in making 802.11ah available in Japan. At the Expo, Newracom - a chip vendor, ASKEY - a product manufacturer, and AHPC - a consortium of 150 companies and organizations, will showcase their latest 802.11ah devices, products, and services. We aim to forge a new alliance that promotes Taiwanese IT entrepreneurship and the expansion of 802.11ah business."
Patrick Lin, Vice President of Product Development at AzureWave, remarks, "Newracom's remarkable accomplishments in the Wi-Fi HaLow product domain underscore their unwavering dedication to innovation and excellence. Their seamless collaboration with AzureWave has not only raised connectivity standards but also transformed the market landscape. Together, they have set a new benchmark for reliable, high-performance wireless solutions, showcasing the power of synergy and expertise in driving technological progress, which we will exhibit at the Expo."
"Through cooperation with world-class chip developers - Newracom, ALFA Network Inc will continue to provide innovative products and strive to become a leading promoter of the smart world of the Internet of Things" commented Johnson Wang, General Manager of ALFA Network.
Tommy Lin, Research and Development AVP at ASKEY, said "With the growing popularity of IoT devices, the demand for low-power, long-distance communication is also rising. The Wi-Fi HaLow's low power consumption and long-range may make it a particularly suitable solution for many IoT applications. Askey Computer has always been committed to promoting innovation in technology. Through cooperation with Newracom, we look forward to deploying Wi-Fi HaLow products more widely and jointly promoting the rapid growth of this market in various industries and regions."
James Lee, Senior Director at ASKEY, followed with, "We are proud to have successfully developed the world's first Wi-Fi HaLow camera. The launch of this product means that we have a technological leadership position in the field of Internet of Things. The ability to transmit long-distance wireless images is a goal that everyone is looking forward to, and Askey Computer has realized this dream for this industry with the Newracom chip. We look forward to it providing broader development prospects for global IoT applications."
Frank Lin, Vice President of Global Marketing and Sales at Newracom, adds, "The Wi-Fi HaLow community has united to demonstrate the readiness of this connectivity standard for global implementation. AHPC, ASKEY, AzureWave, ALFA Network, and many other industry leaders are advancing Wi-Fi HaLow's capabilities, ushering in a new era of linking IoT devices with fast, long-range, low-power connectivity."
About NEWRACOM, Inc.
NEWRACOM, Inc., located in Irvine, California, U.S., has rapidly become a leading developer and supplier of IoT-enabled wireless connectivity chipsets. We specialize in providing a broad range of Wi-Fi (IEEE 802.11ah and IEEE 802.11b/g/n/ac/ax) that covers various connectivity needs in our lives. With our extensive and diverse Wi-Fi solutions, NEWRACOM enables customers with a "one-stop shop," offering a comprehensive solution that can serve multiple IoT applications including Smart Grid, Wearables, Smart Home and Office, Healthcare, and Industrial Automation. For more information, please visit online at http://www.newracom.com.
About AHPC
The AHPC is committed to implementing the IEEE standard 802.11ah, known as Wi-Fi HaLow, in Japan, offering more features than the existing LPWA for IoT wireless systems. Established in November 2018, the organization gained significance with the revision of the Wireless Equipment Regulations by the Ministry of Internal Affairs and Communications in September 2022, which permitted the use of IEEE 802.11ah in the domestic 920MHz band. The AHPC is made up of over 150 members including NTT, KDDI, Softbank and others, their full member list is available at www.11ahpc.org/memberlist/index.html. For more information, please visit www.11ahpc.org.