Newracom Visits Sensors Converge 2022
Author by Newracom
Newracom was at Sensors Converge in San Jose last week demoing our Wi-Fi HaLow solutions. Newracom was invited to demonstrate our smart retail and sensor network examples and promote Wi-Fi HaLow by Embedded Works, IoT & M2M Solutions Provider for Wireless Sensors. These demos were set up in a corner of Embedded Works Booth.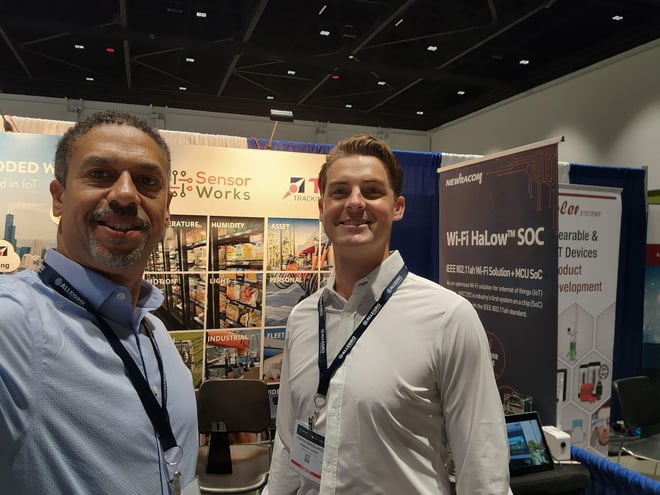 Zac Feeman, VP of Sales and Marketing and Josh Marquardt, Sales and Marketing Manager, on site providing live demonstrations for attendees.
Sensors Converge 2022 is an event all about sensors and the embedded electronics that power applications and enable a variety of IoT solutions. Newracom was excited to be back in San Jose for this event and being able to connect with everyone in-person. As seeing is believing, the Newracom team shared some live demonstrations of our Wi-Fi HaLow technology in action on the show floor.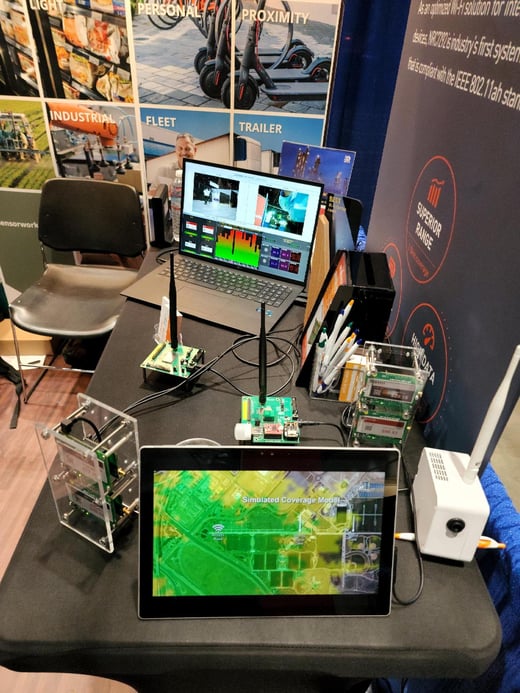 The first live demonstration was on smart retail on a small scale. It included four electronic shelf labels and 2 cameras sending photos every 5 seconds for monitoring inventory. This demo shows how pricing can be remotely updated and shelves constantly monitored using Wi-Fi HaLow. While this demo only contained six clients, Wi-Fi HaLow can support thousands of devices. For a larger scale retail demo, watch the Newracom 1000+ client device demo video with 630 electronic shelf labels and 370 digital displays, 2 sensor devices and 1 IP camera.
The second demo being shown was two long range, low power sensors monitoring temperature, humidity, and gyroscopic movements which were connected to a Wi-Fi HaLow access point. These kind of sensors could be used in IoT deployments for agriculture, industrial environments and smart building to provide environment data. Wi-Fi HaLow can send signals over one kilometer range and low power consumption makes it ideal solution for a large sensor network. In addition to the long range and low power, Wi-Fi HaLow offers faster data through put for the potential of sending video and images that makes it unique from competing LPWAN solutions like LoRa, LTE-M and NB-IoT.
These demonstrations help exemplify the features of Wi-Fi HaLow technology such as its low power consumption, long range of over a kilometer, and high enough speeds to transmit photos and video. All the while having the same networking and security standards of Wi-Fi.
Want to learn more about our Wi-Fi HaLow solutions or let us know what type of demo you would like to see at your next tradeshow or event, please contact us at Sales@Newracom.com.