White Papers: Wi-Fi HaLow best IoT tech for range, battery life, & breadth of applicability
Author by Claus Hetting | Wi-Fi Now CEO & Chairman
Two new white papers from the Wi-Fi Alliance released this month are revisiting the features and benefits of Wi-Fi HaLow, the Wi-Fi standard designed specifically for IoT. Range, excellent battery life, and applicability to a wide range of use cases makes HaLow the right technology choice for IoT, the Wi-Fi Alliance says.
What's the most effective way for the Wi-Fi industry to systematically address a multitude of IoT use cases and associated new business opportunities? While Wi-Fi 6 and now also Wi-Fi 6E are primarily designed to deliver massive speeds and capacities, the world of IoT spans a much more diverse set of requirements and arguably includes a much wider set of use cases. Enter Wi-Fi HaLow (aka IEEE 802.11ah): The sub-1 GHz Wi-Fi standard designed specifically for IoT.
The Wi-Fi HaLow standard has been around for a few years now and its presence has thus far – and probably unfairly – been eclipsed by the industry's push towards Wi-Fi 6 and 6E. But this doesn't detract from the fact that HaLow's features still elegantly address a host of critical IoT requirements: Excellent extended range, high power efficiency, and applicability to a raft of IoT use cases.
Two new White Papers by the Wi-Fi Alliance expound exactly these features of the Wi-Fi HaLow standard and they are both well worth reading. According to the technology overview paper – which can be found here – Wi-Fi HaLow is by a wide margin more energy efficient (and hence provides better battery life) than competitors Sigfox, LoRaWAN, and NB-IoT. For a 2,000 mAH battery (meaning a typical 1.5 V AA battery) the operating lifetime of a device could be as high as 13 years, the paper says, while small devices operating on coin-cell batteries could run for a year and a half.
The HaLow standard spans a huge number of possible IoT segments – including agriculture, home automation, transport, and more – specifically because of its range: Up to at least 1 kilometre of range at low data rates (the lowest is 150 kbps) has already been confirmed by vendor Newracom. Conversely, for shorter range use cases up to 80 Mbps of connectivity can be delivered.
In the extreme case a single Wi-Fi HaLow access point could cover a whopping 775 acres (a sizeable plot of farmland, for example) and provide Internet access for some 8,000 IoT devices, the second White Paper on IoT applications says. For home or enterprise applications and at speeds of 6 Mbps, the Wi-Fi HaLow range reaches just less than 90 meters, the paper says.
Thus far the case for Wi-Fi HaLow has mostly been driven by startups and smaller chipset vendors including Wi-Fi NOW Award winners Newracom, Australia-based Morse Micro, and Netherlands-based Methods2Business. And while the market potential for HaLow is still massive, the HaLow community is still looking for its tipping point for success.
The two White Papers on Wi-Fi HaLow can be downloaded on the Wi-Fi Alliance's website here.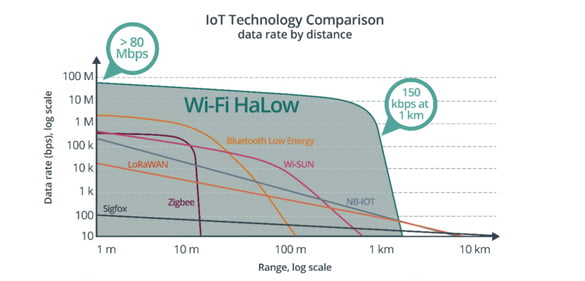 Source of graphic above: "Wi-Fi HaLow: Wi-Fi for IoT Applications" by Wi-Fi Alliance, May 2020.