Askey and Newracom Partner to Develop Next Generation Smart City Solutions With Wi-Fi HaLow
IRVINE, Calif., April 11, 2023 (Newswire.com) - Newracom, Inc., a leading supplier of IoT-enabled wireless connectivity chipsets, and Askey, a member of ASUSTek Computer Inc., have announced a partnership to develop a product line of Wi-Fi HaLow enabled IoT devices for smart city solutions. Wi-Fi HaLow, or 802.11ah, is a wireless standard developed for IoT devices, offering long-range, low-power connectivity with enough data throughput for HD video, making it a flexible enabling technology for a wide range of IoT applications. Wi-Fi HaLow is a sub-gigahertz implementation of Wi-Fi technology.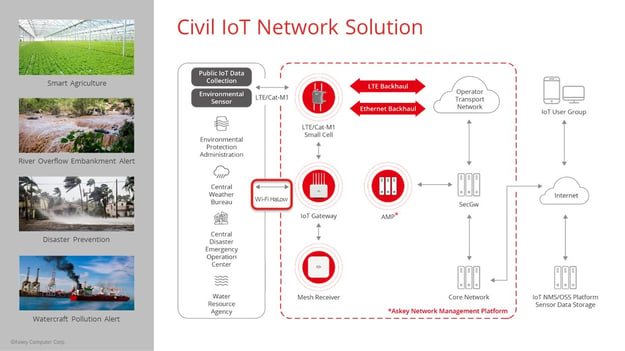 Leveraging Newracom's expertise as a leading Wi-Fi HaLow semiconductor company, and Askey's specialization in creating IoT solutions and ecosystems for those who want the best in smart connected environments, the companies have developed a variety of IoT devices with Wi-Fi HaLow connectivity. These Wi-Fi HaLow-enabled devices range from simple sensors to wireless video cameras, and will be used in conjunction with an IoT gateway that combines Wi-Fi HaLow and LTE connectivity to create cost-effective smart city solutions.
The Wi-Fi HaLow technology devices can enable long-range communication of over 1 km to connect many IoT devices that power a variety of smart solutions. These devices can power rural and dense population centers alike and provide connectivity to a variety of devices to support different solutions such as smart agriculture, disaster prevention systems, urban drainage, pollution monitoring, and many other civil IoT projects. The Wi-Fi HaLow and LTE gateway can aggregate the data from these Wi-Fi HaLow devices to one private LTE connection while saving the number of connections that require ongoing costs.
James Lee, Head of IoT Solution Development for Askey stated, "Wi-Fi HaLow can help lower the recurring costs of smart city infrastructure solutions, lowering the barriers for municipalities in developing smarter infrastructure. Wi-Fi HaLow technology is the right mix of range, speed and low power to meet the wide-ranging demands of smart city requirements."
Zac Freeman, VP of Marketing & Sales in Newracom, commented, "Wi-Fi HaLow is being implemented in many IoT solutions today. We are pleased to be partnering with Askey to enable Wi-Fi HaLow smart city solutions and excited about the opportunity to see Wi-Fi HaLow used in a variety of smart city infrastructure projects."
These smart city solutions are available from Askey's Civil IoT division and can be contacted for engagement for the development of a large variety of smart city projects. In addition, Newracom provides Wi-Fi HaLow system on chip and evaluation kits for enabling the development of Wi-Fi HaLow solutions. Visit https://www.askey.com.tw/solutions-detail/smart-city/ for more information about Askey smart city solutions and visit https://newracom.com/ for more information about Wi-Fi HaLow.
About NEWRACOM, Inc.
NEWRACOM, Inc., located in Irvine, California, U.S., has rapidly become a leading developer and supplier of IoT-enabled wireless connectivity chipsets. We specialize in providing a broad range of Wi-Fi (IEEE 802.11ah and IEEE 802.11b/g/n/ac/ax) that covers various connectivity needs in our lives. With our extensive and diverse Wi-Fi solutions, NEWRACOM enables customers with a "one-stop shop," offering a comprehensive solution that can serve multiple IoT applications including Smart Grid, Wearables, Smart Home and Office, Healthcare, and Industrial Automation. For more information, please visit online at http://www.newracom.com.
About Askey
Founded in 1989, Askey Computer Corp. specializes in creating solutions and ecosystems for those who want the best in Smart Connected environments.
Askey has been the preferred carrier-grade solution partner for communications providers, major Telecom Operators and Consumer Product Providers worldwide. To learn more, please visit: https://www.askey.com/.