NRC7394 IS NOW READY FOR GO-TO-MARKET
NRC7394, the Next-Generation Wi-Fi HaLow SoC Providing a Low-Power, Small Footprint, and Lower Costs, is Now Available for Purchase and Evaluation
Transforming IoT Applications with Low-cost & Energy-conserving Wi-Fi HaLow
I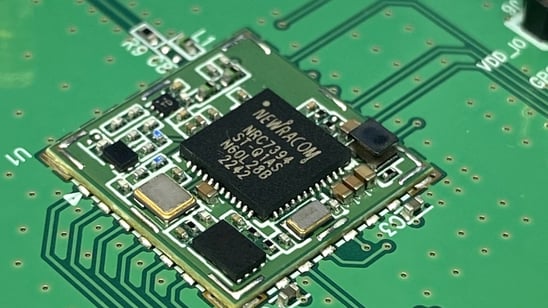 RVINE, Calif., November 1, 2023 (Newswire.com) - Designed to be low-cost, energy-efficient, and small in size, NEWRACOM announces the commercial availability of the new Wi-Fi HaLow System on a Chip (SoC) to the market. The new Wi-Fi HaLow SoC, named NRC7394, represents innovative improvements in power consumption, size, and costs from our early experience and consequently is more competitive against existing Wi-Fi HaLow SoCs in the market. Wi-Fi HaLow is a long-range implementation of Wi-Fi technology based in the 750-950 MHz spectrum designed for a variety of IoT industries including building automation, smart homes, industrial IoT, smart cities, and wearables.
NRC7394 is a highly integrated SoC incorporating baseband (MAC & PHY), Sub 1 GHz radio transceiver, and ADC/DAC in a small 6mm x 6mm 48-QFN package. It is fully compliant with the IEEE 802.11ah standard which is the long-range and low-power version of the Wi-Fi standard. It supports 1/2/4 MHz channel bandwidth which yields 150 Kbps to 15 Mbps PHY rate that can handle low-rate sensors to high-rate surveillance camera applications.
An embedded Cortex-M3 ARM® processor in the NRC7394 offers enough processing power to accommodate the Wi-Fi subsystem and user applications in a single Wi-Fi SoC. NRC7394 includes two host interfaces, HSPI and UART, and rich peripherals such as general SPI, I2C, UART, PWM, auxiliary ADC, and GPIOs. The low-leakage retention memory inside NRC7394 can store code and data necessary for fast wake-up from deep-sleep mode.
The NRC7394 features a fully integrated Power Amplifier capable of +17dBm TX output and offers the capability to support various commercial external FEM (front-end module) devices for applications requiring higher transmission power.
The NRC7394 is capable of operating as an Access Point or Station device and supports additional network architectures including 802.11s mesh. The SoC can operate alongside an external processor in Hosted and "AT Command" modes or leverage on-chip processing and IO for low-power Standalone operation.
More information about the NRC7394 can be found on the NRC7394 Product Page. SDK and software documentation are available on our GitHub page at https://github.com/newracom.
If you are interested in purchasing an evaluation kit for the NRC7394 and getting silicon in hand, contact us at sales@newracom.com or at our contact page.
About NEWRACOM, Inc.
NEWRACOM, Inc., in Irvine, California, U.S., has rapidly become a leading developer and supplier of IoT-enabled wireless connectivity chipsets. We specialize in providing a broad range of Wi-Fi (IEEE 802.11ah and IEEE 802.11b/g/n/ac/ax) that covers various connectivity needs in our lives. With our extensive and diverse Wi-Fi solutions, NEWRACOM provides customers with a "one-stop-shop," offering a comprehensive solution that can serve multiple IoT applications including Smart Grid, Wearables, Smart Home and Office, Healthcare, and Industrial Automation. For more information, please visit online at http://www.newracom.com.