Newracom Announces Availability of Ultra-Low Power ARM Core Based Wi-Fi 802.11 b/g/n MAC/PHY/Subsystem and RFIC IP for Internet of Things Applications
Author by Newracom
IRVINE, Calif. - (BUSINESS WIRE) - Newracom, Inc., a leading developer and licensor in wireless intellectual property of cutting-edge Wi-Fi technology, today announced the availability of NRC6181, a proven ultra-low power ARM Core based IEEE 802.11b/g/n MAC/PHY/full Wi-Fi subsystem and RFIC IP especially designed for Internet of Things (IoT) applications. NRC6181 has been designed for easiest integration into customers' SoCs and consists of extremely small number of gates counts for low cost, while also achieving ultra-low power consumption as required for many IoT applications.
NRC6181 is fully available today and supports all the mandatory IEEE 802.11 b/g/n features. It has been designed on TSMC's proven 40nm LP process to achieve significantly low power.
"We are pleased to announce NRC6181, our latest ultra-low power Wi-Fi 802.11 b/g/n MAC/PHY/full subsystem/RFIC IP especially designed for the IoT market. Instead of using external Wi-Fi chipsets and modules, our low power ARM-based IP will enable IoT processor SoC customers to easily integrate 802.11 b/g/n functionality into their chipset for lowering overall cost, size and power consumptions. We have seen tremendous interest on NRC6181 from several customers, and looking forward in enabling low-power Wi-Fi as a core technology to be used for IoT applications in the near future", said Michael Lee, Vice President of Marketing and Sales.
NRC6181 has also been integrated onto ARM's mBed platform and will be demonstrated live at the ARM TechCon held in the Santa Clara Convention Center, CA USA from October 25-27, 2016.
About Newracom, Inc.
NEWRACOM, Inc. is a leading developer and licensor of intellectual property (IP) of cutting-edge Wi-Fi technology. Newracom provides innovative low-power Wi-Fi based IoT solutions and also developed the world's 1st IEEE 802.11ah 'HaLow' solutions. It holds superior Wi-Fi system architecture design capabilities and a prolific patent-generating engine that enables its proprietary technology to position itself at the heart of the upcoming Wi-Fi generations. Newracom, Inc. has developed state-of-the art wireless IPs, focused primarily on IEEE 802.11b/g/n for 2.4GHz bandwidths and IEEE 802.11ah for Sub 1Ghz bandwidth. For more information, please visit online at http://www.newracom.com.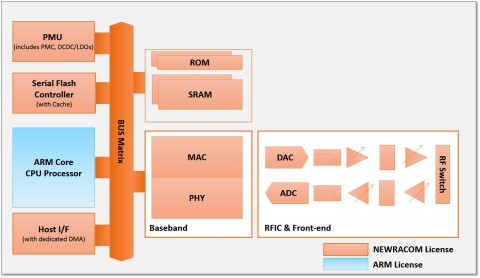 NRC6181 : IEEE 802.11n MAC/PHY/Subsystem/RFIC+Front-end CMOS die (TSMC 40nm LP process) (Graphic: Business Wire)