Which Technologies Does Wi-Fi HaLow Have The Best Potential To Disrupt
We recently polled our LinkedIn followers about which type of IoT wireless technology Wi-Fi HaLow has the best potential to disrupt. The results were very interesting, and everyone has different opinions. The leader, with 42% of the vote, was Long Range LPWANs like SigFox or LoRa. Our LinkedIn Network thinks LPWANs are the most likely to feel disruption by HaLow.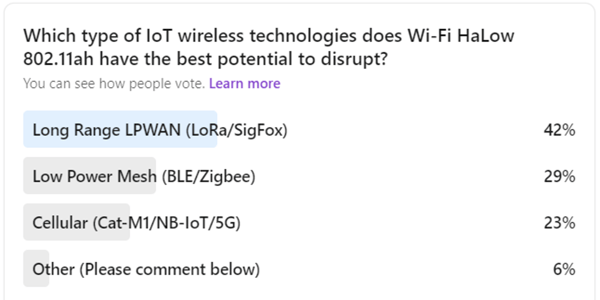 First off, a big thank you to everyone who participated. We could not have done it without you. The results were enlightening, and we are glad many of you took the time to lend your technical expertise and give your opinion.

Let us dive into the different wireless technology matchups.
Wi-Fi HaLow versus LONG-RANGE LPWANs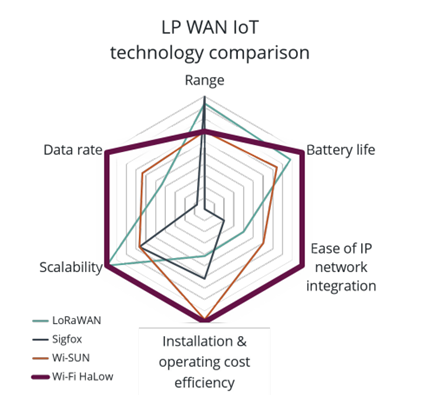 Source - Wi-Fi Alliance Wi-Fi CERTIFIED HaLow™ Technology Overview Whitepaper
LPWANs such as LoRa and Sigfox achieve long-range and low power at the expense of throughput. These technologies have a maximum throughput of less than 100Kbps. Compared to HaLow data rate in the 10's of Mbps, HaLow is hundreds of times faster than LoRa and Sigfox. This speed also translates into greater energy efficiency and longer battery life. LPWANs have a lower instantaneous power draw than HaLow, however HaLow's speed and advanced power management allow the radio to transmit and go to sleep much faster than LPWAN. The result is HaLow is 400% more energy efficient than LP-WAN and offers longer battery life. The more data is transferred, the greater HaLow's power consumption advantage over LPWANs.

LPWANs excel at achieving very long range. For applications that require ranges greater than 1-2km, LPWAN will have a range advantage. Applications that are within HaLow coverage range will benefit from higher throughput, longer battery life and greater scalability. It is worth noting that Wi-Fi HaLow does have mesh networking capabilities that can extend the signal range of a Wi-Fi HaLow network.
Comparing Wi-Fi HaLow to other LPWANs is a conversation around data rates versus distance. HaLow's data rates allow for sending video, images, and software updates. This is not possible on other long-range LPWANs out there today.
Wi-Fi HaLow Versus LOW-POWER Mesh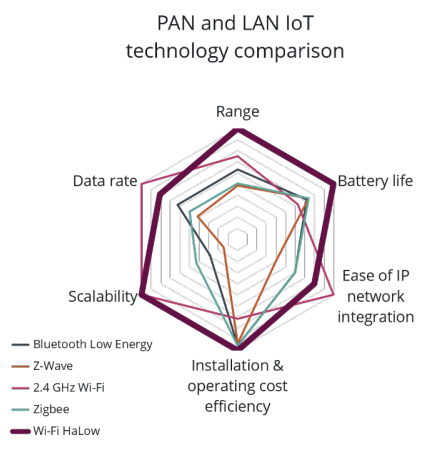 Source - Wi-Fi Alliance Wi-Fi CERTIFIED HaLow™ Technology Overview Whitepaper
Low Power Mesh is the second largest vote-getter, with 29% of the vote. HaLow has faster data rates, longer signal range, and lower power than Bluetooth Low Energy and Zigbee. IoT devices that integrate BLE or Zigbee cannot compare to those with HaLow in terms of data speed, scalability, and reliability. For short-range and indoor applications that BLE and Zigbee typically service, HaLow can operate at reduced power output levels to offer very long battery life. Leveraging sub-gigahertz frequency for coverage and material penetration, a HaLow device can reach all corners of the home or building with much less power consumption than a 2.4Ghz device. This enables all types of battery-powered sensors and devices.

There are HaLow-enabled energy harvesting outdoor IP cameras that can connect through multiple walls and over long distances to an AP in the household. Go check out our Smart Home article for some new possibilities and ideas with HaLow.
Wi-Fi HaLow versus Cellular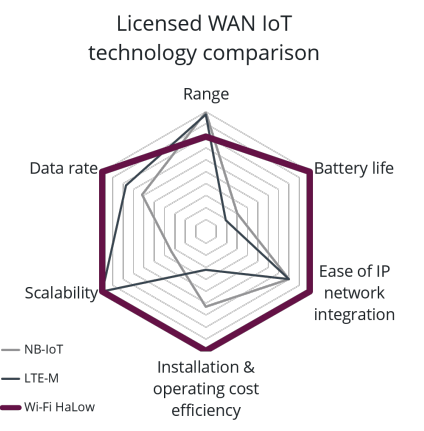 Source - Wi-Fi Alliance Wi-Fi CERTIFIED HaLow™ Technology Overview Whitepaper
Comparing these two technologies the conversation is about device roaming capabilities versus costs. No one really wants to pay reoccurring per-device costs to mobile service providers. Cellular has an advantage in terms of range and almost anywhere roaming capabilities. Compared to HaLow the IoT-focused cellular technologies such as Cat-M or NB-IoT are still slower and consume more power. Then moving to LTE and 5G you have faster data rates than HaLow, but your costs are going even more and your battery life even shorter. Cellular is IoT connectivity at a high cost, the question will be how far is this device going, and is the additional cost worth taking on?
Learn More about HaLow
What poll would you like to see next? Drop us a line at Sales@newracom.com and let us know.