Wi-Fi HaLow Will be an Important Piece of the Smart Home Network
Author by Newracom
Many Challenges in the Smart Home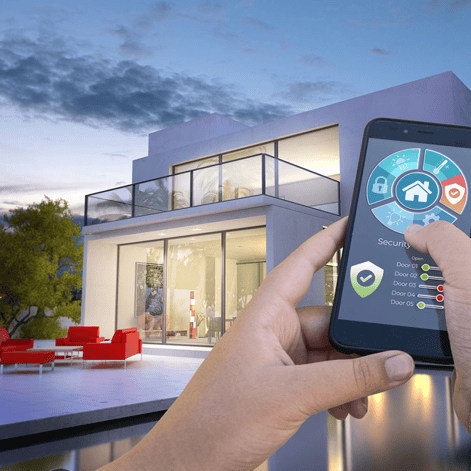 While there are a growing number of smart home devices, we are starting to see the limits of wireless technology for the growing home automation network of devices. The number of devices and potential for home automation continues to grow but is being hampered by a few issues with current connectivity solutions.
According to Deloitte in a 2021 report, the number of devices per household has more than doubled from 2019 to 2021. How many wireless devices will you have two years from now, five years from now, or ten years from now? As the home network gets more and more congestion due to the growing number of devices, operating in the same popular frequency bands causing signal interference and performance issues. Wi-Fi HaLow, the 802.11ah IEEE standard, can overcome these challenges.
Wireless Interference
Interference is an important issue that smart home vendors must focus on. The number of wireless devices and different wireless standards in the home is growing in the 2.4 GHz spectrum. This increases the chances of a home experiencing wireless interference problems. An IoT device that experiences connectivity issues will be returned even though some other device is causing the interference. Smart Home and Intelligent appliance vendors will have to rethink how they want to implement their connectivity or have end users be frustrated and return smart home devices. Your company's brand reputation may be lost due to other interfering devices from another manufacturer. Devices on HaLow would be on a less used frequency and a lower chance of interference will help keep end users satisfied with their IoT devices. HaLow can be configured to have more than 26 non-overlapping bands, compared to the 3 bands for 2.4 GHz Wi-Fi.
The Dead Spots
The other challenge is being able to penetrate walls for indoor and outdoor coverage. What connected home isn't complete without a smart sprinkler system, doorbell, connected pool, or outdoor appliances for entertaining outside on nice days. Or there are some places in the home that just don't get a signal due to interference or large objects between the location and the access point like an attic or a garage. For Wi-Fi HaLow this wouldn't even be a challenge.
The Number of Devices
While it may not be an issue for you today, it's certainly a growing concern. Especially in large dense population areas where an apartment might have over 100 devices on the common 2.4 GH frequency band before even moving in. This issue will only grow as each individual has more and more connected devices.
Not only that but there are also other looming challenges with Wi-Fi, such as the number of client devices. Currently, Wi-Fi only supports 250 devices, which is only a 10x factor of the average number of devices per home today. Connected lights, smart speakers, appliances, computers, laptops, phones, tablets, toys, alarms, sensors, doorbells, door locks, and other IoT devices could make that 250 number look small for some larger homes. In reality, most consumer access points fall far short of that, supporting just dozens of devices. HaLow support over 8000 devices connected to a single access point – plenty of capacity for any IoT application.
How Wi-Fi HaLow is a Solution
Enabling Data Through a Sub-Gig Wi-Fi HaLow Network
With the recent certification of Wi-Fi HaLow Systems on a Chips (SoCs) and Wi-Fi HaLow enabled products by the Wi-Fi Alliance it becomes feasible to start moving IoT devices in the home to a completely different frequency. This will keep smart home devices from interfering with demanding high bandwidth applications and let them exist peacefully on the sub-gigahertz frequency. This offloading to the sub gig channel helps all other connected devices by removing additional potential interference in the common 2.4 and 5 GHz channels used by almost all connected devices today. Designed for IoT devices Wi-Fi HaLow uses narrowband communication (1, 2, or 4 MHz) and offers 26 non-overlapping 1Mhz channels in the US. Compared to the 3 non-overlapping channels with Wi-Fi in the 2.4 GHz frequency, 802.11ah gives IoT devices a lot of breathing room.
Due to the focused development of Wi-Fi HaLow for IoT devices, it is an ideal connectivity technology for home automation devices. Wi-Fi HaLow has many benefits for connected home automation devices over standard Wi-Fi such as the number of end devices, extended range, low power, and better wireless penetration through objects and walls.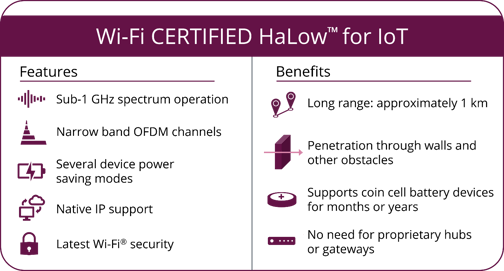 Graphic Courtesy of the Wi-Fi Alliance
Better Signal Penetration
Wi-Fi HaLow means devices out in garages, front or back yards, or on the roof are all within easy reach for smart home ecosystems, even a sensor monitoring your mailbox at the end of the street wouldn't even be a problem.
We have all suffered unexpected connectivity issues in our lifetime. There is a space in your house that just doesn't get a Wi-Fi signal. Wi-Fi HaLow can help alleviate this problem through its ability to pass through objects and long-distance capability. With IoT devices being used anywhere and everywhere, sometimes they end up in places where a normal wireless signal would be poor or even unavailable even when in the working range of the access point. It's amazing how quickly metal mounting brackets, can lights, and other household objects become accidental faraday shields. Beyond that, smart outdoor devices such as cameras, weather sensors, and sprinkler systems can be completely out of reach from a normal Wi-Fi access point. However, Wi-Fi HaLow does not have the same limitations.
Due to the nature of the Sub-GHz ISM, band Wi-Fi HaLow operates in, it can reach the boundaries of a large home and gets through objects that standard Wi-Fi could not. The longer wavelength of Wi-Fi HaLow transmits at a lower frequency, allowing signals to get through objects and walls better than current common home wireless standards. This gives more freedom for the location of IoT devices, without having to worry about setting up a mesh network or relying upon multiple access points. For smart home device manufacturers, Wi-Fi HaLow could reduce support calls and returns due to signal interference or lack of reach to a smart home device.
Same Security as Wi-Fi
Wi-Fi HaLow follows the same security standards as regular Wi-Fi, WPA3. This helps maintain the integrity and security of your home network at the same standards you have your current Wi-Fi network set up. WPA3 is mandatory for Wi-Fi HaLow certified devices enabling robust authentication, increased cryptographic strength for highly sensitive data, and maintaining the resiliency of your network. With the more recent adoption of Wi-Fi HaLow, legacy devices with older security protocols do not exist, meaning old vulnerabilities sneaking onto your network are not a problem.
Due to high-profile hacking and data breaches, data privacy and network security are of growing concern to the average end user. Rightfully so consumers don't want their home network compromised through a fish tank sensor or other IoT devices in their home. Wi-Fi HaLow certified devices using WPA3 help prevent network access through end devices.
Low Power Higher Speed Options
While many Low-Power Wide Area Networks (LPWANs) exist today, none of them come close to Wi-Fi HaLow has in terms of data speed. LPWANs are not used regularly as part of smart homes today due to the slow transmission speeds and almost near inability to update and patch devices out in the field over wireless. Requiring the end user to go out and update or patch a smart device is not likely feasible in the smart home environment.
Wi-Fi HaLow offers a way for low-power devices to be added into the home and that just wasn't consumer friendly before. Imagine remote back gate sensors with alerts when opened, a sprinkler system that measures water moisture at each sprinkler head, or alerts when our outdoor pet's food bowl is empty that have a battery that has to be replaced only every few years. The possibility of the smart home encompassing your whole property where electricity isn't readily available is now possible with the 802.11ah standard.
Number of End Devices
While this isn't something we think about yet as a concern for smart homes, the number of devices doubled over the last two years. At this rate, the number of household-connected devices is growing is somewhat of a concern. However, when you start to look at different types of residential home automation options and the wide range of Wi-Fi HaLow the capability to handle many client devices becomes important. Wi-Fi has a limitation of 250 end devices for a network. In comparison, Wi-Fi HaLow has a limit of 8191 devices. To see how well this works check out our 1000 device demonstration as an example of the potential for a complex IoT network of devices. This could mean an apartment complex with one single access point could manage each apartment's smart door locks, alarms and all of the complex's outside lights without issue.
The Potential Future of Wi-Fi HaLow in the Smart Home

Wi-Fi HaLow is built with IoT in mind and has the potential to expand the current capabilities of Smart Home platforms. Its long range, low power, penetrating signal, and data throughput make it ideal for home automation devices.
How Will Wi-Fi HaLow Integrate Itself into the Smart Home
Wi-Fi HaLow is simple and easy to deploy because it follows the same standards as a Wi-Fi deployment would. Its longer range, better signal penetration, security, low power consumption, and less likely to encounter interference make it ideal for an IoT network for home and building automation.
In the future, your home wireless gateway will include the 802.11ah standard. This would open homes to have end devices directly on a Wi-Fi HaLow Network. However, in the meantime, smart home device manufacturers could include a specialized smart home access point for their home automation platform with all the other connectivity options that make up the smart home today such as Zigbee and Bluetooth mesh solutions along with HaLow. Other options include a small dedicated HaLow AP that can be directly plugged into the network. These are all easy solutions since the range is larger and the signal can penetrate objects better than standard Wi-Fi, there is little concern about the positioning of the access point to ensure full home coverage.
Potential Use in Larger Dense Housing by Property Management Companies
Wi-Fi HaLow's key strengths in the number of clients, security, and penetrating signal capabilities go beyond just a home network and make it ideal for use by apartment complexes, hotels, and high rises for building automation. Being able to remotely monitor and update 100s of smart door locks, for example, would be a prime use case for Wi-Fi HaLow. Imagine an apartment complex with heightened security by ensuring each smart lock is up to date and patched for any vulnerabilities, and able to monitor if residents have left their door open or being able to remotely let in a renter or guest. All the while not congesting the already busy 2.4 and 5 GHz channels and not interfering or being interfered with by the individual wireless networks.
Use in Rural Areas
Larger homes such as ranches, or large rural homes with very large lots can finally have wireless access throughout their property with Wi-Fi HaLow. While not reaching the speeds of regular Wi-Fi, it still has the speed to be able to transmit video at a long range. Want a camera of your vegetable garden with a soil sensor that is 100 meters from the house? It is no problem for Wi-Fi HaLow's long range and high speeds. Large rural properties are no longer a challenge for automation and monitoring devices with Wi-Fi HaLow.
Conclusions
Wi-Fi HaLow has a lot of features for creating a robust dedicated IoT network for the smart home. Compared to standard Wi-Fi you have a longer range, better signal performance, and lower power usage. Additionally, one HaLow access point can cover the entire property and not just part of the house. This implies there could be a bright future for smart devices that are further outside the home, for example, a smart lawnmower, or back and front gate sensors. Wi-Fi HaLow can enable smart home device designers with new potential to create a truly connected and automated home when they no longer need to worry about being close to an access point.