Introducing the NRC7394, NEWRACOM's Solution for Lower Power and Cost Effective Wi-Fi HaLow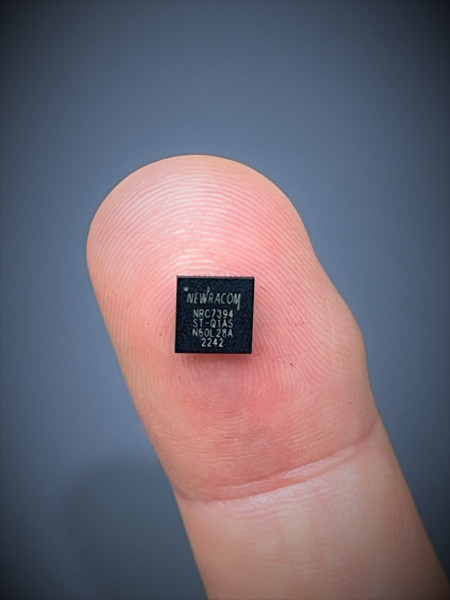 IRVINE, Calif., June 27, 2023 (Newswire.com) - NEWRACOM today announced that its latest Wi-Fi HaLow System-on-a-Chip (SoC) product, the NRC7394, will soon be available for commercial production. The NRC7394 is the successor of the world's first Wi-Fi HaLow SoC, NRC7292 to enhance performance, cost-effectiveness, and further energy efficiency. It integrates an on-chip power amplifier, features a small footprint of 6mm x 6mm, and improves low-power performance to maximize battery life. It supports full IEEE 802.11ah (Wi-Fi HaLow) compatibility with enhanced performance, enabling 1, 2, and 4 MHz channels within a frequency range of 750-950 Mhz. Wi-Fi HaLow is a Sub GHz implementation of Wi-Fi designed for long-range communication of up to 1.5 km, specifically developed for various IoT devices.
The NRC7394 is ideal for integration into Wi-Fi HaLow devices across various applications such as Smart Home, Building Automation, Smart City, Smart Grid, Healthcare, Surveillance, Drones, and more. The NRC7394 is a complete System-on-chip with the ability to run applications directly, without any external microprocessor. Its features provide device manufacturers with opportunities to create low-cost and energy-efficient Wi-Fi HaLow devices with years of battery life. The upcoming NRC7394 can help extend the lifecycle of Wi-Fi HaLow devices in the field while reducing energy costs for plug-in applications. Additionally, its small 6mm x 6mm footprint makes it easy to design even the smallest Wi-Fi HaLow-enabled devices.
"Our engineering team has expanded the advantages of Wi-Fi HaLow with our NRC7394 Wi-Fi HaLow SoC, empowering our customers to develop new IoT solutions that meet the requirements of low power, enabling a next generation of Wi-Fi HaLow devices," stated Dr. Sok Kyu Lee, CEO at NEWRACOM. "Our company has worked tirelessly to create the next innovation in Wi-Fi HaLow."
"The deep integration and low power consumption of the NRC7394 translates to smaller, lower cost devices and reduced operating expenses in terms of battery replacement and energy consumption for our customers. The NRC7394 delivers the full capabilities of Wi-Fi HaLow with long range, low power, and high throughput," asserted David Kim, Vice President of Product Development.
Evaluation kits are now available for those interested in considering the NRC7394 for their next Wi-Fi HaLow device. If you are designing a product with Wi-Fi HaLow and would like to evaluate the NRC7394 for its small footprint and low-power features, please contact sales@newracom.com.
About NEWRACOM, Inc.
NEWRACOM, Inc., located in Irvine, California, U.S., has rapidly become a leading developer and supplier of IoT-enabled wireless connectivity chipsets. We specialize in providing a broad range of Wi-Fi (IEEE 802.11ah and IEEE 802.11b/g/n/ac/ax) that covers various connectivity needs in our lives. With our extensive and diverse Wi-Fi solutions, NEWRACOM enables customers with a "one-stop shop," offering a comprehensive solution that can serve multiple IoT applications including Smart Grid, Wearables, Smart Home and Office, Healthcare, and Industrial Automation. For more information, please visit online at http://www.newracom.com.
More Images